Optimize content items
This article explains how to optimize your content items. Let's look at how to optimize your content items not only for readability, but also for search engines.
Search engine optimization
Creating high-ranking content in Google just got a lot easier with Prepr. The SEO Validation gives you instant feedback on how well your content is optimized for search engines. Just enter the keywords you are optimizing for, and Prepr will show you what you can do to improve your search engine rankings.
To enable the SEO score, click Settings at the top of the model, click the Settings tab and switch on the Enable SEO score toggle.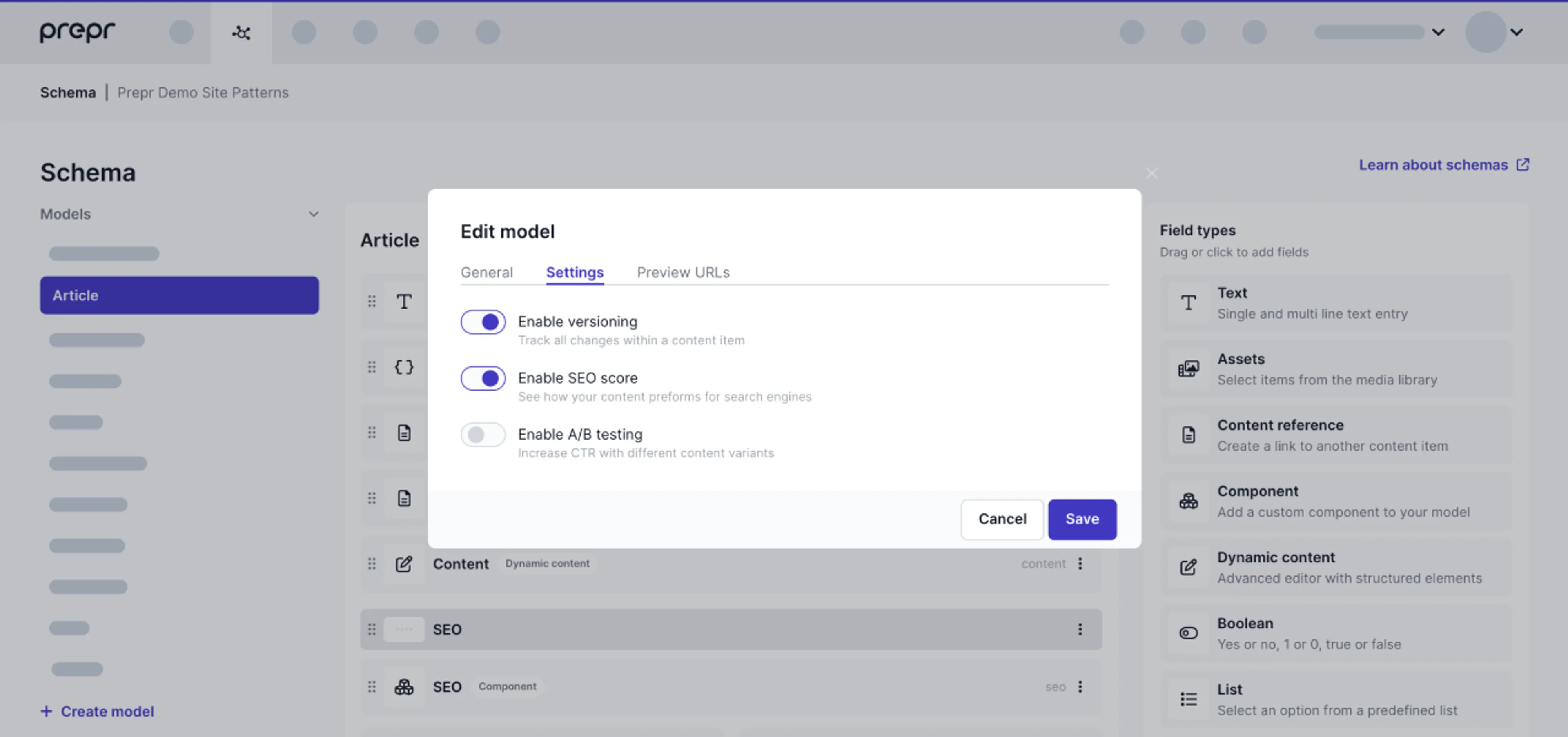 Keywords
Enter the keyword phrase that you want to optimize for this content item. These keywords are used for optimization suggestions in Prepr and are not the Google SEO keywords. The Google SEO keywords are, you might have guessed it, generated automatically by Google.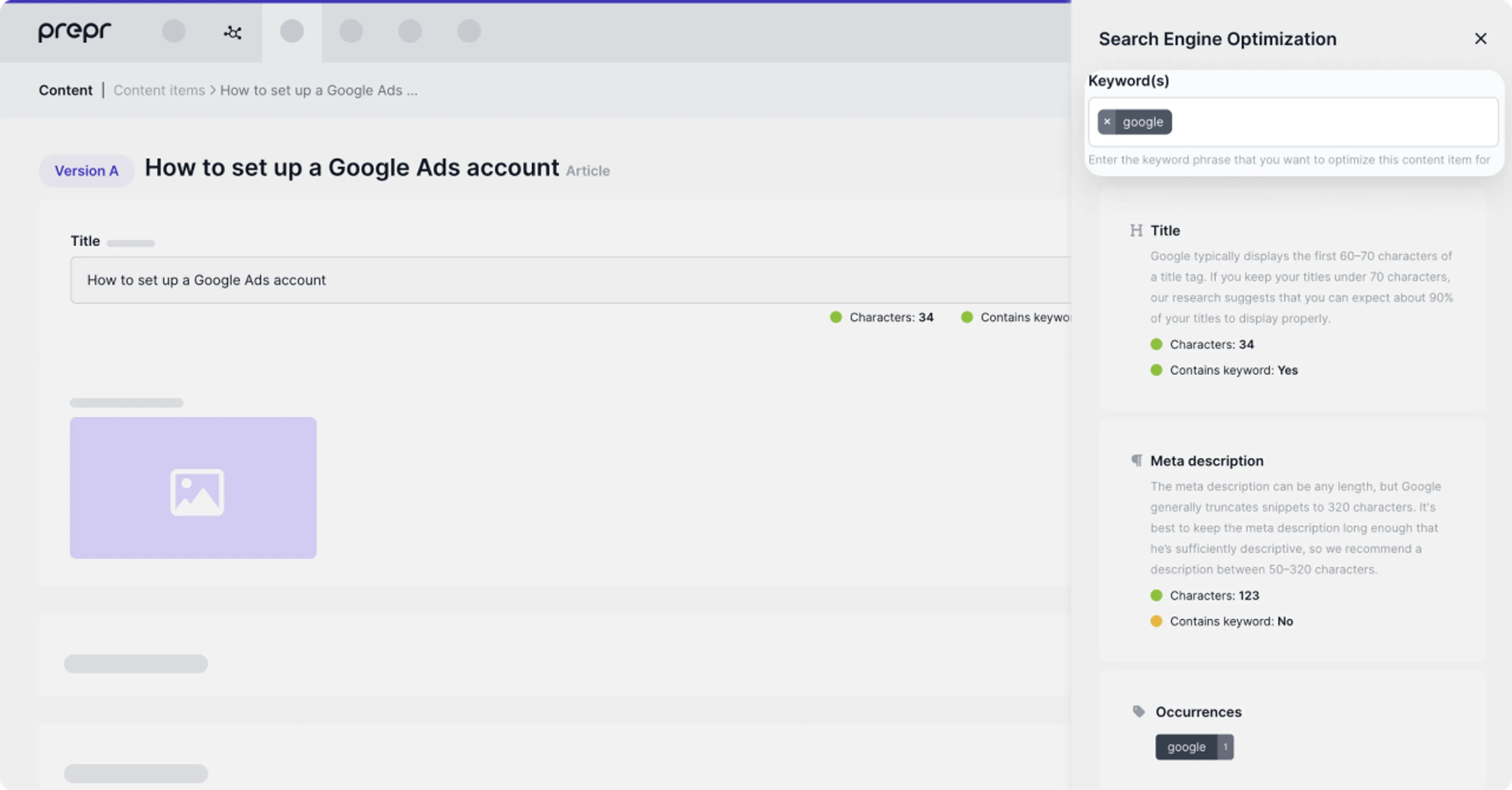 SEO title
Google typically displays the first 60–70 characters of a title tag. If you keep your titles under 70 characters, our research suggests that you can expect about 90% of your titles to display properly.
Meta description
The meta description can be any length, but Google generally truncates snippets to 320 characters. It's best to keep the meta description long enough that it's sufficiently descriptive. Therefore, we recommend a description between the 50 and the 320 characters.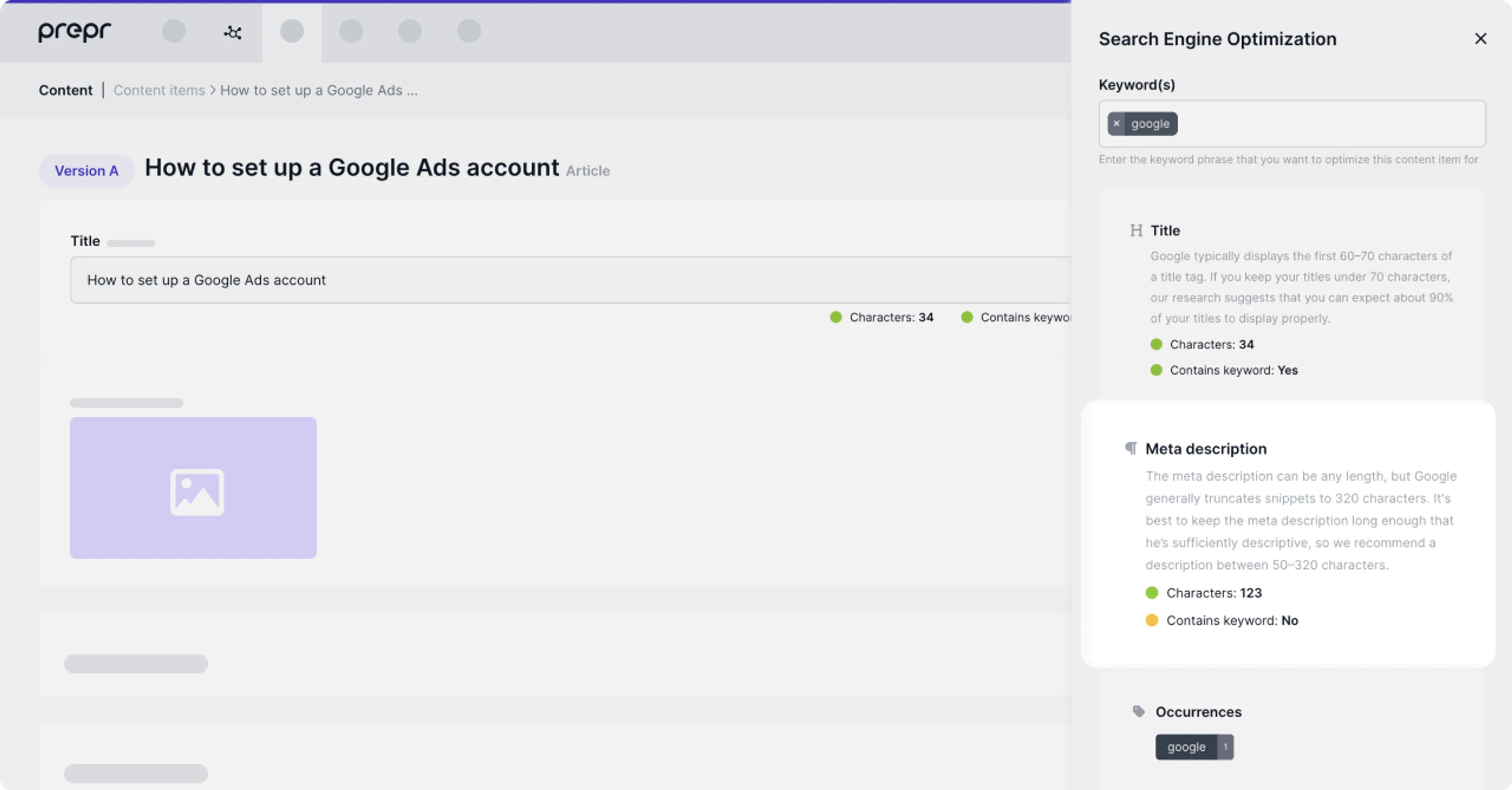 Occurrences
Prepr shows how often the entered keywords are displayed in your content item. The top three occurrences are shown in the optimization sidebar.
Google preview
Based on the given meta title and meta description, Prepr previews a Google snippet in the optimization sidebar. Did you set a domain URL and slug? This will be shown in the Google snippet as well.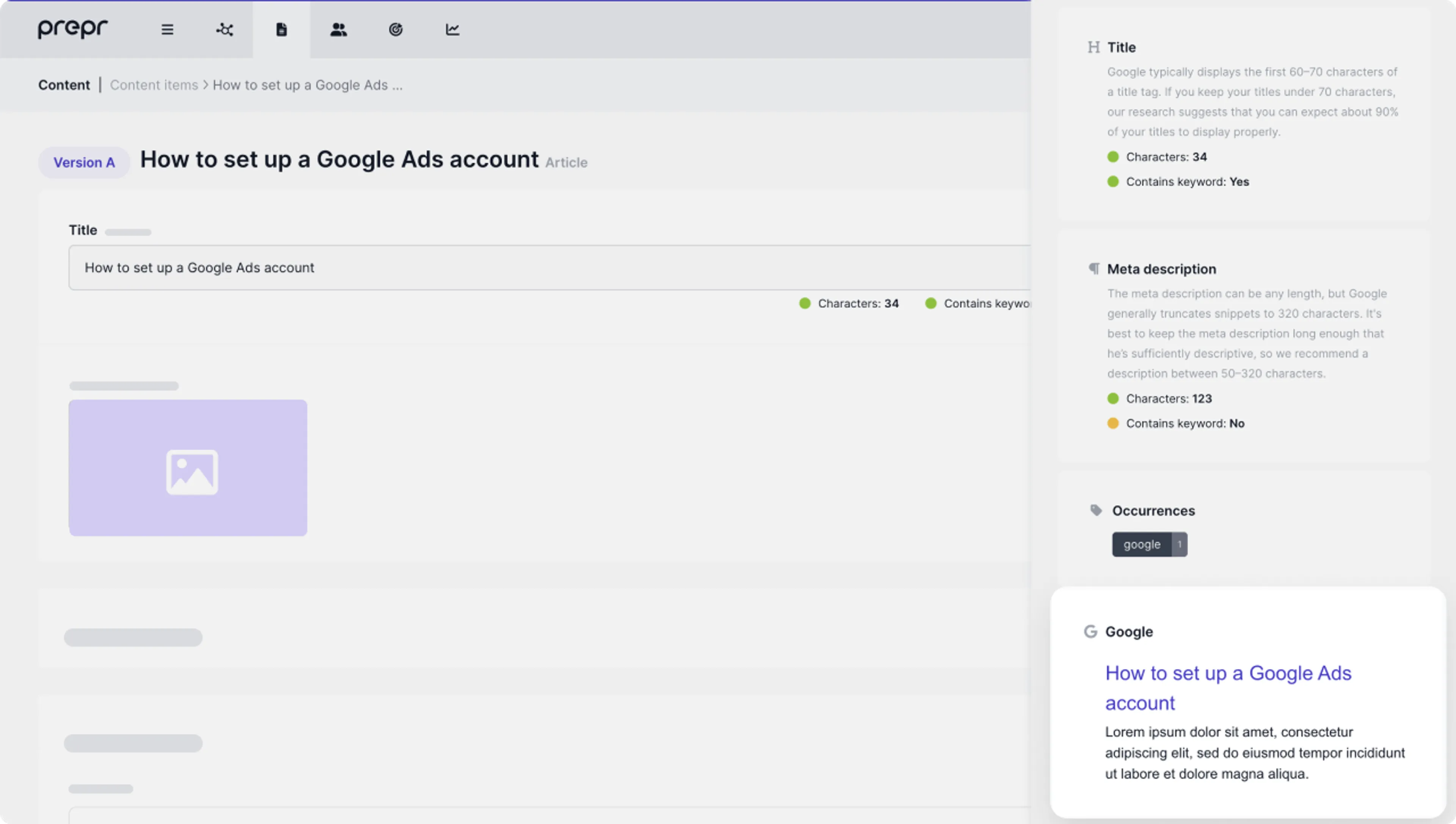 Nofollow tags
Nofollow links are links with a rel="nofollow" HTML tag applied to them. The nofollow tag tells search engines to ignore that link. Because nofollow links do not pass PageRank, they don't impact search engine rankings.
You can add the "nofollow" by opening the link pop up in the text editor and select Don't follow.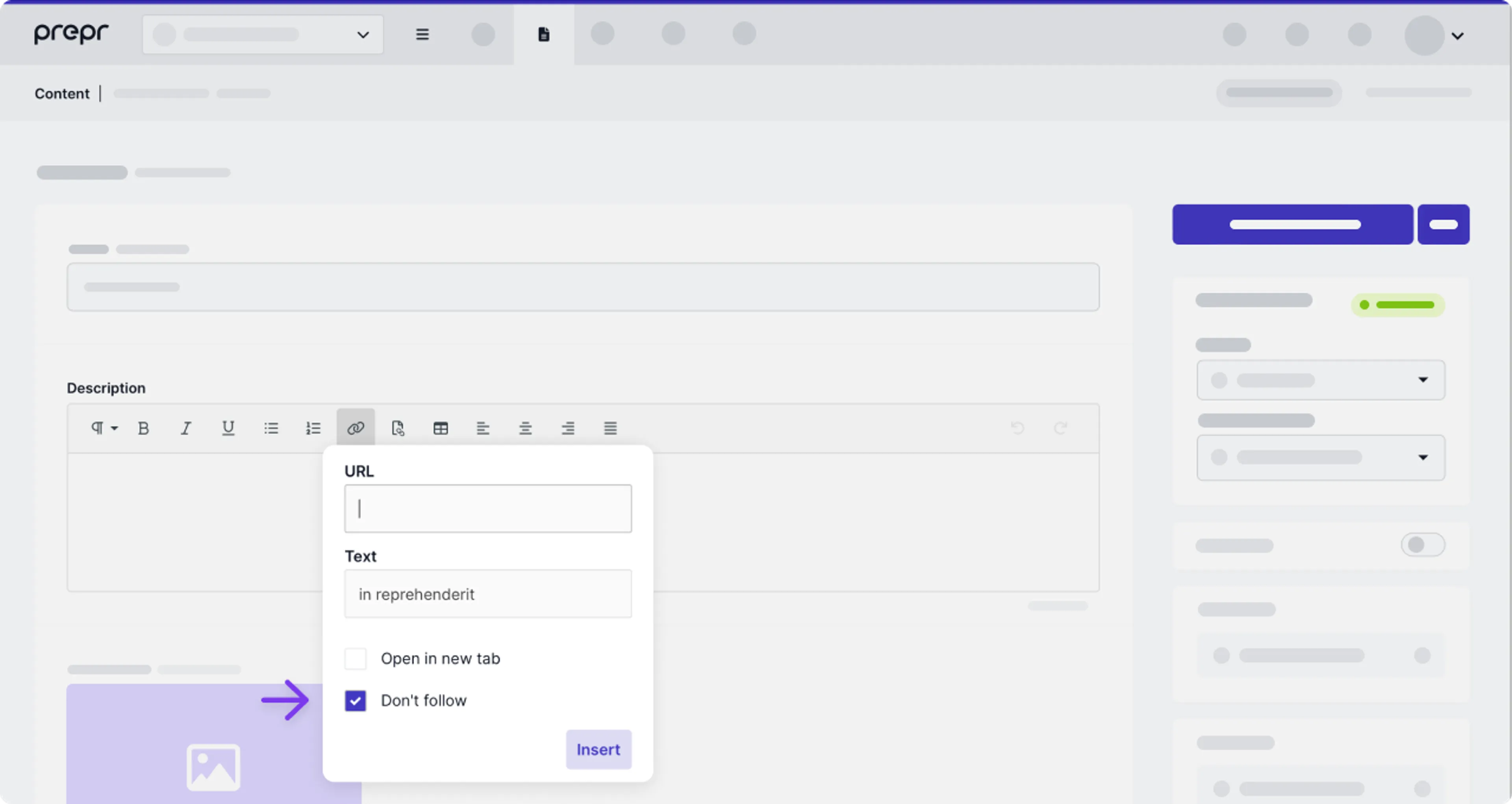 Word count and readability
With Prepr you have a word- and character counter, so you know how many words and characters are in your content item. Furthermore, we offer read time and readability score. You can adapt the length of your content item based on this data.
Character counter
You can set a character limit on a text field. To do so, enable the Limit character count toggle validation on the field in the model and add a maximum value. If this is set, you can see the limit when adding your content to the text field. When you hit this limit, you are not able to continue typing.
Read time
The number of words combined results in a word counter and a read time. The read time is based on the formula: # of words / 3.5 per second.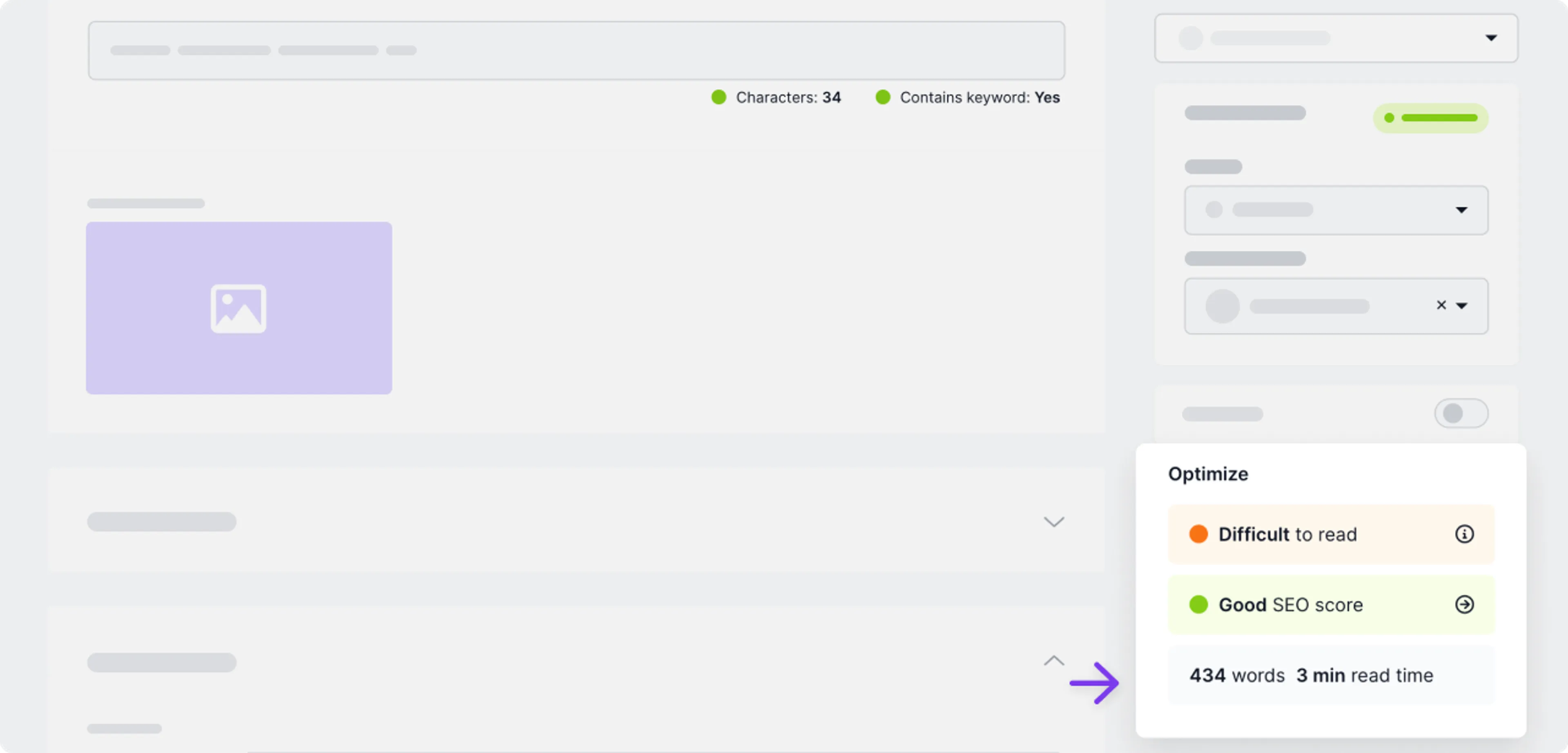 Readability score
The readability score is a number that tells you how easy it will be for someone to read your content item. The readability is a formula based on the number of words, number of sentences and the number of words with more than six characters. The scores are:
< 30 Very easy

30 - 39 Easy

40 - 49 Average

50 - 59 Difficult

> 59 Very difficult