Manage your subscription
Quickly scale up or down to support any number of users and environments. Our plans scale with your business requirements, enabling affordable trials and large enterprise implementations. Want to know more?
Your current plan
You can check your current plan on the Subscription page under your profile icon.
If you would like to have more Users, Environments, and Records than included in your current plan, you can upgrade your subscription any time.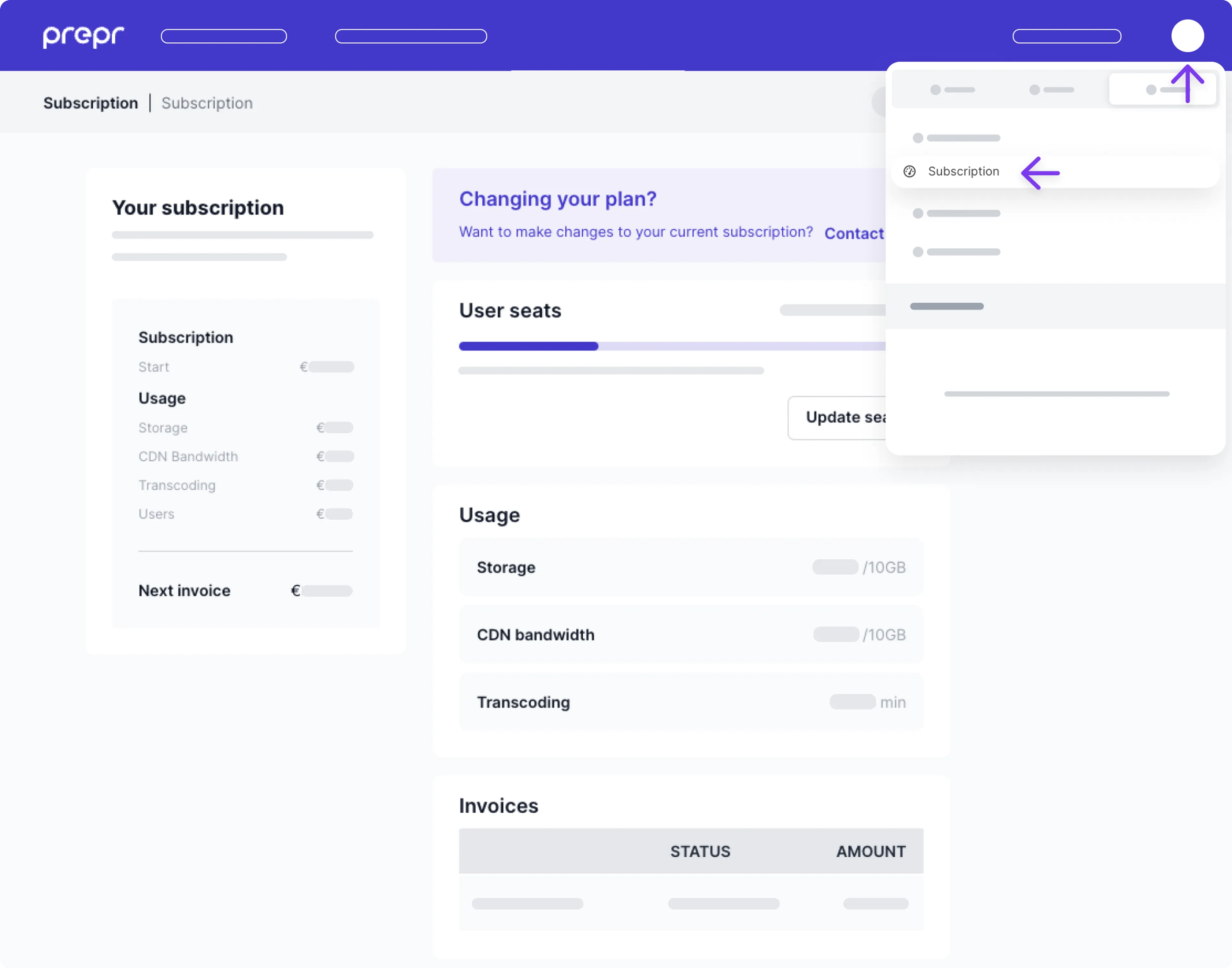 User seats in your subscription
A user seat means Prepr access for a user based on a personal email address. You can access Prepr with your email address on two devices simultaneously. The limit on users is a hard limit, you need to upgrade your subscription to add more users.
Change plan
If you are the account owner, you can upgrade your Community plan by following the below steps:
Click Upgrade.
Choose the plan that you want to upgrade to.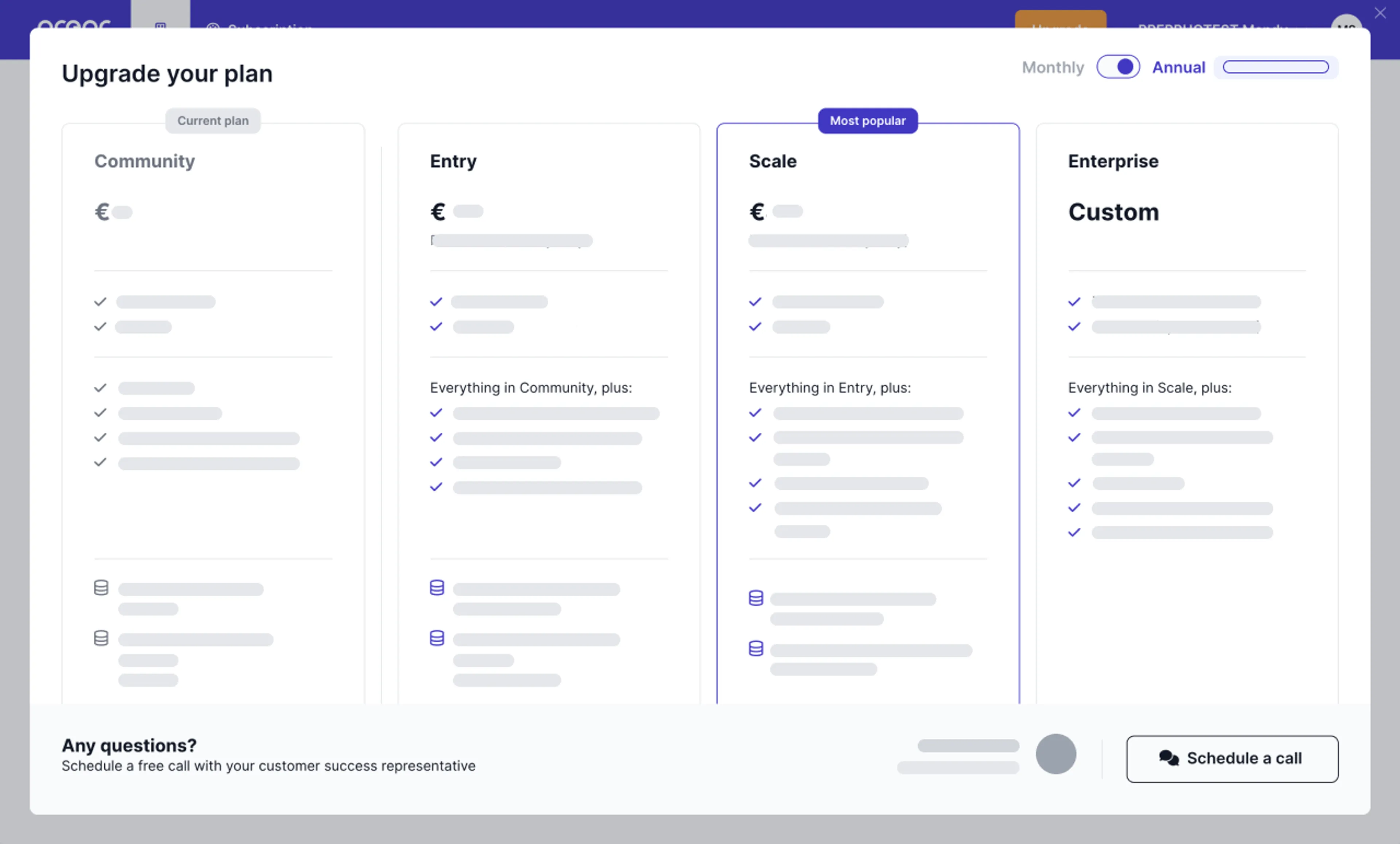 Fill in your details and click Upgrade.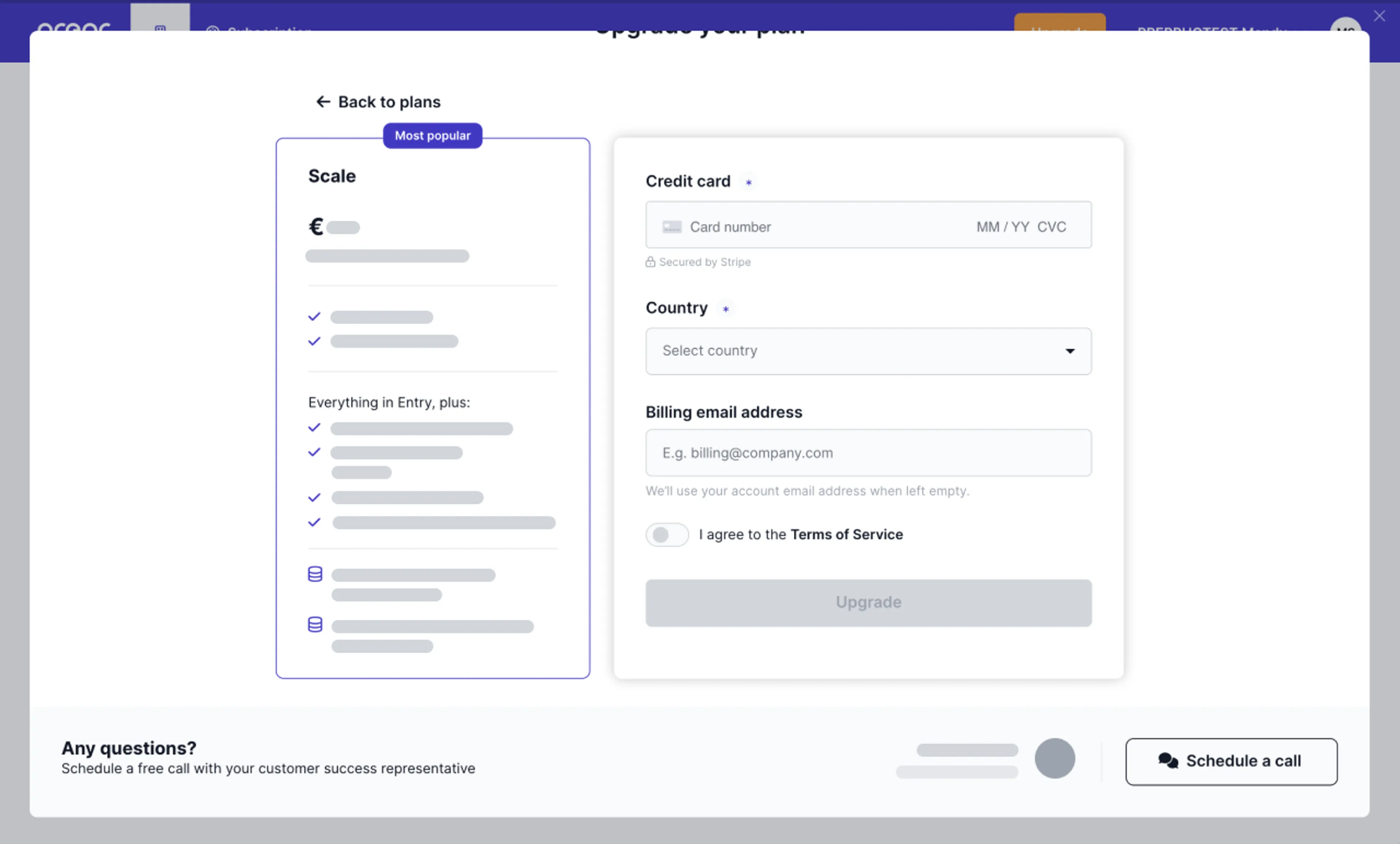 Your upgrade will be applied immediately and the invoice and usage are recalculated in real-time.
To downgrade your current plan, you can contact our sales team from the Subscription page. Our sales team will contact the account owner about this request.
Cancel subscription
We're sorry to see you go! Please note that only the account owner can cancel the subscription. If you're sure you want to cancel, please contact our support team. Just send a message via support.prepr.io and we will process your cancellation.
Viewing invoices and payment details
As the Owner, you can view your invoices and payment details. Only the account owner is able to access this page. You can see the amount, status and date of all invoices.
Download Invoices
If you click the title of the Invoice it will open or download a PDF-file. Here you can save it to your PC or print it.
If something is incorrect on an existing invoice, you can contact billing by sending an email to billing@prepr.io. Please send the invoice number with your message.
Change Payment Details
To change your payment details, including your credit card and VAT numbers, billing email, click your profile icon in the top right corner, then go to Subscription > Organization details.
Please note, your changes will only have an effect on future invoices.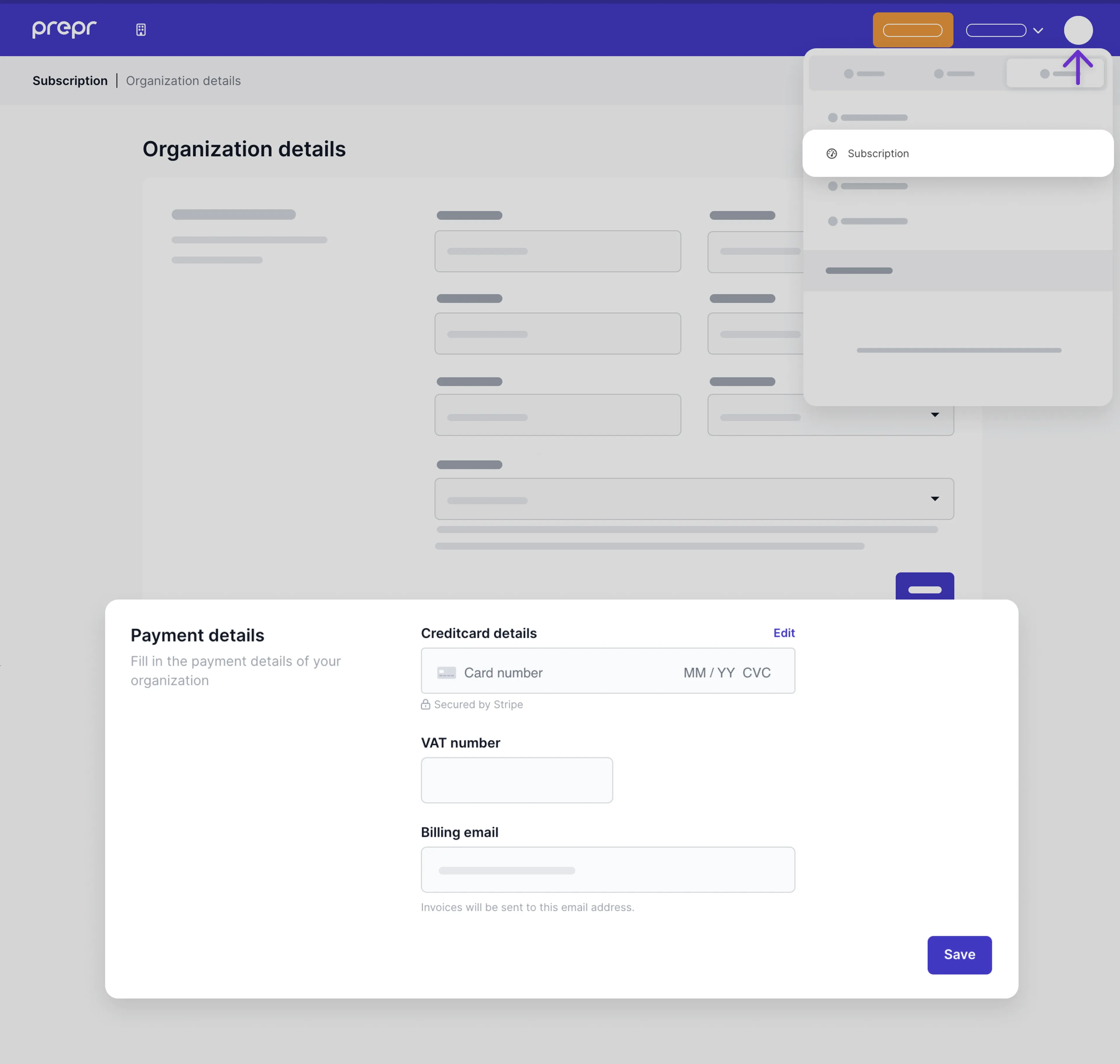 Monitoring data usage
In the organization settings, you can have a closer look at the data usage of your environments. The usage you see is a sum of the data from all your environments. We recommend contacting support if you have any questions regarding your data usage.
Usage
Bandwidth
The number of Gb of bandwidth used for streaming assets and API's.
Storage
The number of Gb of storage of your assets.
Transcoding
The number of minutes transcoding. 1 minute of video counts as 1, the minute ratio of audio transcoding is 4:1.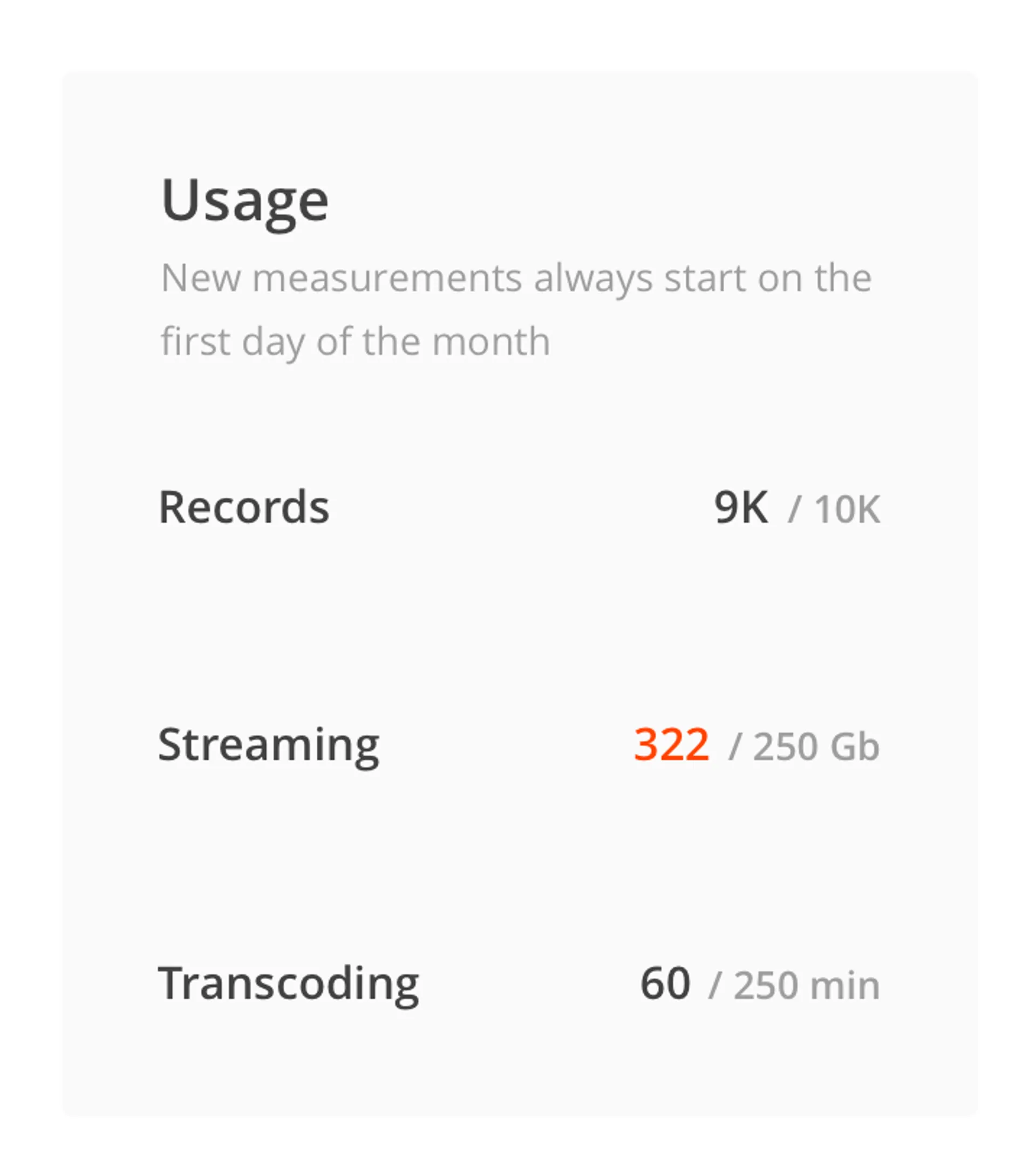 Additional Data Costs
All the Usage that has exceeded your plan (red text) will be charged on your next invoice. The costs of records, streaming and transcoding are described in your license and SLA. You'll only see the additional costs of the current month. For historic usage data, you can check your previous invoices.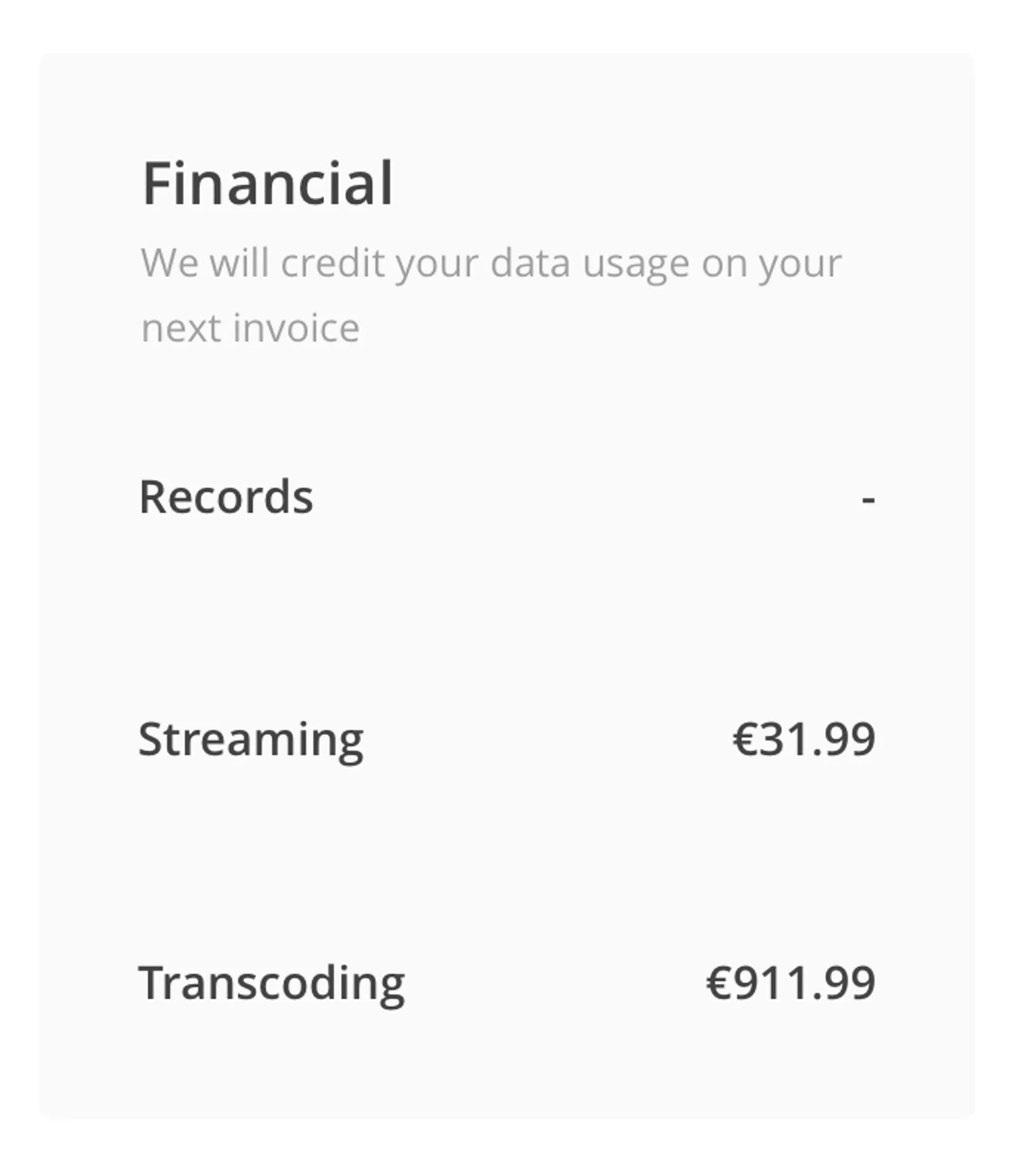 Info
The limits on users, environments and records according to your plan are soft limits. Prepr will continue working, but our account managers will contact you. The limit on streaming is a hard limit. When exceeding this limit, all extra Gb will come with additional costs, described in your license and SLA.